ANTIQUE & VINTAGE COSTUME JEWELRY
All text and photos Copyright The Jeweled Forest, 2000-2008
Order or Questions on Any Items




Rare 1957 Red White Blue Straw and Glass Set (PHOTO) Never-worn old stock from shuttered shop. Great for all the upcoming American holidays. Set is very Haskellesque $95


RARE ENGLISH RED VICTORIAN VAUXHALL GLASS BROOCH (PHOTO) Ruby-red mirrored tiles from 1800s make this beauty a winter keeper. Some breaks, but better than typical condition for a fragile piece of this age. Also, unusually large; $95


VINTAGE BIRD BROOCH WITH REAL FEATHERS AS TAIL (PHOTO) Antiqued gold bird, multi-blue RS blue-white feathers, large; $59


VINTAGE TAXCO STERLING LOS CASTILLO FIGURAL FUR CLIPS (PHOTO) Mexican man and woman villagers, fur clip pair, Taxco silver, old, very early, marked 980, 101; $229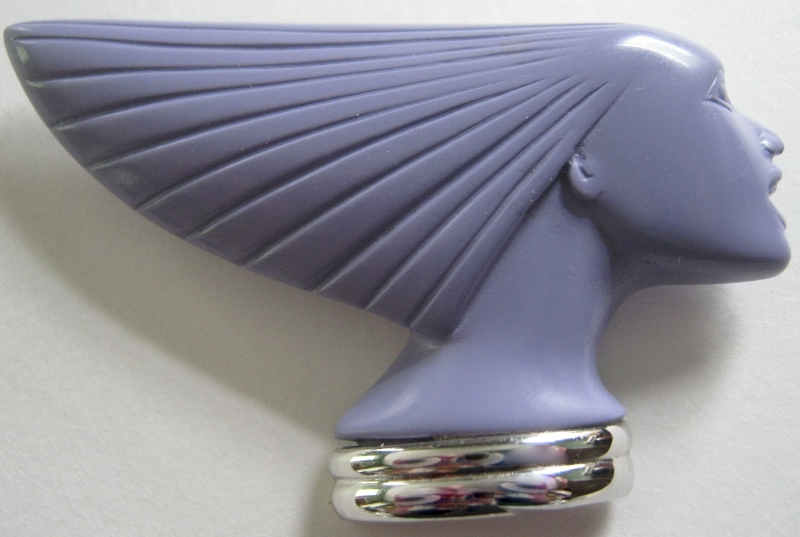 (PHOTO) SIGNED ART DECO LALIQUE LADY FACE PIN Brooch signed Art Deco, replica of Rene Lalique's hood ornament Victoire; $295.
Order or Question on Any Item
WALTER LAMPL FIGURAL CHINESE MAIDEN FUR CLIP (PHOTO) Beautifully executed figural of enamel and RS, Chinese lady, $195


(PHOTO) JEWELED ROBERT VINTAGE FIGURAL BROOCH LADY Amazing figural mask or face with elaborate chain hair, very large, signed Fashioncraft (pre- Originals) by Robert. Huge. $395.
Order or Question on Any Item
(PHOTO) SILSON TOASTING TIGER FUR CLIP PERFUMER Huge, rare and famous figural fur clip of tiger toasting with goblet, the top of which screws off for perfumed daub of scent. Read details about it in upcoming perfume-jewelry book. Large. $495.
Order or Question on Any Item
(PHOTO)



(PHOTO) HUGE METAL BUG BROOCH Mid-century large bug, metal, great piece! Not so-so, exceptional. $69.



(PHOTO) BEAUTIFUL HUGE BEADED SEAHORSE PIN Huge, exquisite purple seahorse brooch. $79. OLD SIGNED INDIAN FUR CLIP

Hard to find silvery fur clip of an Indian, signed Monet, done in Southwest colors of red and turquoise; $59.
Order or Question on Any Item
(PHOTO) MARY SANS HER LITTLE LAMB FUR CLIP Jeweled and enameled Mary fur clip without any lambs in sight; $79.
Order or Question on Any Item
(PHOTO) VINTAGE BEN AMUN ART DECO EARRINGS Classic hardcore Art Deco design by Ben Amun in silver-gray metal. Clips. $79
(PHOTO) UMBRELLA GARDENER LADY PIN Charming whimsy figural lady hold parasol while watering the flowers in her jardin. $59
(PHOTO) GORGEOUS JEWELED & STERLING INSECT FUR CLIP Huge glass jewel in a sterling bug fur clip; $79
(PHOTO) HATS ON HATRACK TREE PIN Wow, Victorian style hall tree hung with hats! Brightly colored enamel on a vintage figural brooch. Bowler, top hat, knit cap, feathered chapeau and an umbrella. $59
(PHOTO) HUGE ENAMELED CORO LEAF FUR CLIP Gorgeous enameled and jeweled Coro leaf fur clip, huge; $79
(PHOTO) CHARMING WHIMSY MAURICE CHEVALIER PIN Whimsey figural of Frenchman Maurice Chevalier; $59.


Back to Christmas Tree Pins...
HOME
ANTIQUES
Payment may be made by check, money order or credit card through Pay Pal. Please click Email if you have any questions, or click the Order button if you already know what you would like to purchase.